Frequently asked questions and contact form
Do you ship all over the world ?
We deliver anywhere in the world with a choice of two carriers (economy and express). No matter where you are, we have a secure way for you to pay and get delivered.
About pricing, our system will automatically calculate the shipping costs for your country and remove taxes (VAT) if you are not in the European Union.
Depending on your country, you will have to pay customs duties when your order arrives. We are not responsible for these taxes and cannot anticipate them. You should be aware of this when ordering.
I have not yet received my order, what is the delivery time ?
At the end of your order, an estimated delivery date was displayed. You also received this information in the confirmation email of your order.

This delivery date is based on 2 things that add up :
- the average duration of restocking of the product with our suppliers when it is not in stock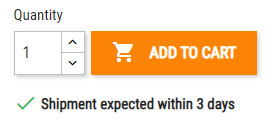 - the transportation time to your destination depending on the carrier chosen


If this estimated date is exceeded, our teams will contact you to review your order.
How do I know if a product I'm looking at is compatible with my bike?
We try as much as possible to place the products in the categories to which they apply. By visiting following the menu for your motorcycle, you should only find products that are compatible with it.
In addition, on the product sheet, an indication of compatibility is given as explicitly as possible.

In case of doubt about specific or old products, we remain available to give you the best best advice.
I would like a product for my motorcycle but I cannot find it or it is not available.
With this network of partners, we try to keep the catalog as complete as possible but some parts that you need may be missing.
Do not hesitate to contact us using the form below and we will do what is necessary to find and add to the shop the parts you want.
I would like to return a product, is it possible?
According to our general terms and conditions of sale, we apply a 14-day cancellation period. We ask that you contact us before returning the goods.
We draw your attention to the fact that the shipping costs remain at your charge for a for a retraction.
I have another question
If you have another question or need special assistance, you can contact us with the form below. We can also be reached by phone from Monday to Saturday from 8am to 12am and from 2pm to 6pm. Finally, a live chat is available depending on the capacity of our teams. If it is a chat bubble appears at the bottom of the site and allows you to start a discussion.
Whenever possible, we invite you to use the email contact form below. The traceability of the emails as well as the possibilities of translation (for our foreign customers) guarantee rapid responses and optimal service.